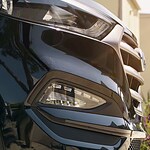 Whether it's been a while since you've found yourself in the market for a vehicle or you're simply interested in learning about the newest crossovers that are available, a visit with our knowledgeable team in Annapolis is in order. We're pleased to stock the popular Hyundai Tucson, and we're sure that you'll appreciate its many amenities too when you come in for a closer look.
The Tucson's combined city and highway fuel rating across all models is an enviable 28 miles to the gallon. A total of six available trim packages offers something to suit almost everyone, and the low starting price puts the Tucson easily within reach.
The tasteful, well-planned passenger cabin delivers ample storage and makes taking even long road trips a pleasure. A spacious digital screen and compatibility with Apple CarPlay and Android Auto are standard features at every trim level.