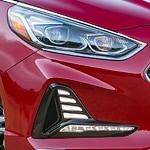 A popular midsize car, the new Hyundai Sonata has the performance features that you look for in a reliable vehicle for your family. Learn why it is ready to perform well in any driving condition today.
To start, the new Sonata from Hyundai comes with a 2.5-liter engine that is designed for speed and easy handling on the road. It provides the acceleration that you need to maintain your speed on the interstate or simply keep up with traffic on city roads. The new Sonata also features brakes that make it easy to stop on a proverbial dime. You can brake with ease even while going at full speed to prevent accidents.
Finally, the new Sonata handles well with its powerful steering, shocks and other undercarriage features. Every ride that you take in the Sonata is smooth and free from disturbing jostles. The performance features make the Sonata one of the best cars available today.