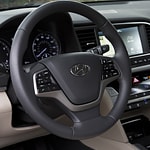 The Hyundai Elantra has quickly been regarding as one of the most sought after vehicles on the market. With the excellent features provided by Hyundai, the Elantra's sleek design and excellent performance are what makes this vehicle so desirable.
One great feature of the Elantra is the fuel efficiency that comes standard and improves with other trim models. With the standard model, the Elantra will get 31 miles per gallon in the city and 41 on the highway. This is boosted with the Eco model that boasts an impressive 33 miles per gallon in the city and 41 miles per gallon on the highway.
With the Hyundai Elantra, there are available options that give you the choice between three driving modes. These help maximize the traction and stability while driving or offering increased handling. With any of the options, you will get the standard safety features that come with Hyundai.